The main hotel for the conference is the Augusta Marriott at the Convention Center. The hotel is about 200 meters away from Georgia Cyber Center, and the shortest walk is on the scenic Augusta Riverwalk that runs along the Savannah River. We have an arrangement with Augusta Marriott and a block of rooms is reserved for DISC attendees.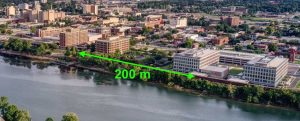 Book your group rate here at the Marriorr for the International Symposium on Distributed Computing (DISC) 2022. Please note that the space is limited. We suggest you reserve soon to guarantee a room at the reduced rate.

There are several other hotels in the area. Other options include:
Other budget option nearby include:
Anyone interested in sharing a hotel room for DISC 2022 can use this Zulip stream to coordinate.