Conference and Workshops sites
The DISC'17 conference will be held at Austria Trend Hotel Park Royal Palace, at Schlossallee 8, 1140 Wien (Vienna), in close proximity to the Vienna Technical Museum and with views of Schönbrunn Palace. To book rooms at the negotiated rate, please use the link provided in the registration confirmation email.
The venue can be conveniently reached with U-Bahn (subway) or tram. Coming from the VIE airport, the simplest public transport route is to take the suburban railway S7 (cheaper) or the dedicated City Airport Train CAT (faster) to "Landstraße (Bhf. Wien Mitte)" (for more details and current fares check how to get from airport to center). From Landstraße, you can take the U-Bahn U4 to "Schönbrunn", from which it is a 15min walk to the hotel (see below). Alternatively, you can take U4 to "Hietzing" (the stop after Schönbrunn) and from there take the tram line 60 to the stop "Penzinger Straße", which is right next to the hotel.
When arriving by train or bus at Wien Hauptbahnhof, you can take tram line 18 to Wien Westbahnhof and from there tram line 60 to "Penzinger Straße".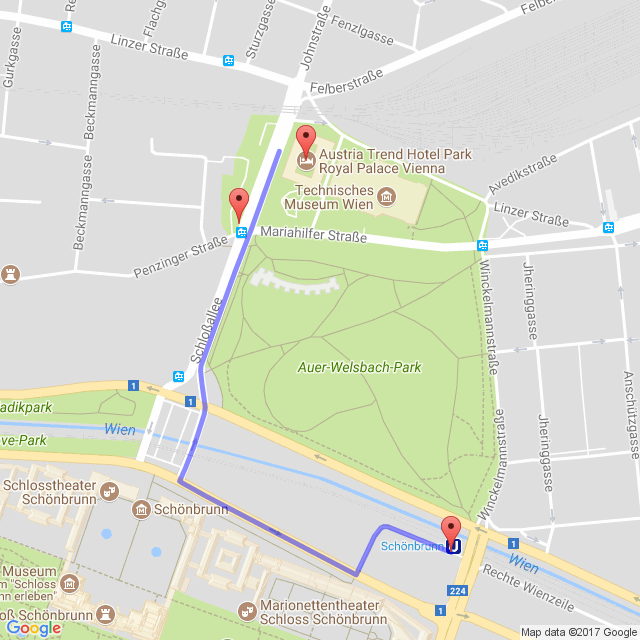 Welcome Reception and Social Event
The DISC'17 Welcome Reception will be held at the grand hall of the Vienna Technical Museum at Mariahilfer Straße 212, 1140 Wien, in the early evening of Monday, October 16th. Don't miss this! There will be the opportunity to attend a high-voltage demonstration at the end of the reception.
The conference banquet will take place in Schönbrunn Palace, at Schönbrunner Schloßstraße 47, 1130 Wien, in the evening of Wednesday, October 18th.
Getting to Vienna
Vienna can be conveniently reached by plane (e.g., to Vienna international airport VIE), train, bus, or even catamaran. The city has a dense public transport system and numerous Taxi companies. The Vienna tourism office provides detailed information on how to get to Vienna. Wiener Linien (the Vienna public transport operator) has up-to-date information on public transport itineraries and ticket pricing.
Things to do in Vienna

With world-famous theaters, operas and over 100 museums, there is a lot to do in Vienna! The site of Wien Trousimus provides a great starting point for general information on sights, museums, cultural events, and more. For a fresh look on Vienna, we recommend the Vienna episode of Travel Man; but beware, not everything in Vienna is Mozart and Apfelstrudel! For buying theater tickets, we recommend the official partner site of the Austrian Federal Theaters, where tickets are sold without any vending charges or fees.